XBRL2015 Conference in Copenhagen, Denmark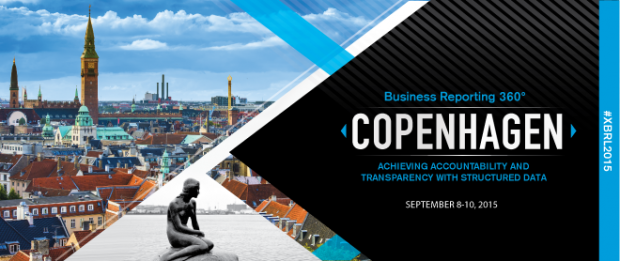 Top Ten Reasons to Attend Business Reporting 360
The 2015 XBRL International Conference will cover the latest ways in which regulators, policy makers and financial leaders are making the most of structured data. No matter your place in the global business reporting supply chain, Business Reporting 360° will deliver the information you need.
Hear insight from business leaders like Ken Goldman, CFO of Yahoo!, Michael Bardram from Danske Bank and Paul Staal from ING.
Gain an understanding of the current implementation life cycle and the steps common to many XBRL implementations by attending the Best Practices Workshop.
Learn about recent and upcoming XBRL Specification developments, hear about how to how to use iXBRL data effectively, and get the scoop on data modelling at FASB, and the word on extensions from the IASB and others.
Get completely up to date on CRD IV implementations. Adam Farkas, the Euopean Banking Authority's Executive Director and Andreas Weller, Head of IT for the EBA, will both speak.
Hear case studies for Solvency II reporting with structured data in Europe.
Network with regulators, technical experts and solution providers from around the globe.
See demonstrations of the latest software solutions.
Hear how things are being done at regulators like the Danish Business Authority, Latvian FCMC, the Swedish Companies Registration Office, and the Dutch SBR Program.
Find out how companies are using the XBRL data they generate for regulatory filings to gain a better understanding of their own financial picture.
Business Reporting 360° is the only place to be part of it all . . . training, learning, networking. Register today.
Visit the conference website for the latest program information
Visit the conference website for the latest program information