Invoke e-Filing for Banks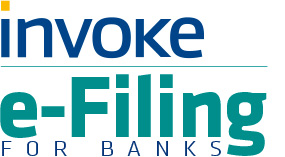 Product Description
A TACTICAL STRAIGHT-FORWARD APPROACH
Thanks to the integrated web spreadsheet, populate your regulatory reporting online, directly in the regulatory templates provided by regulators!
Once the disclosure timetable has been personalized, users can directly input data or import Excel® files throught the online spreadsheet application, launch the online validation engine, sign the reports and download the regulator-ready XBRL instance documents.
MAIN FEATURES
• An end-to-end service hosted by Invoke
• Excel® import into the online spreadsheet application
• Online direct input in the reporting templates imposed by the supervisory authority
• Filing-calendar management
• Visualization of report content by the signatory prior to submission
• Real time validation of disclosures (integrated XBRL validation engine)
• Online electronic signature
• Generation of regulatory reports in regulator-ready XBRL format
• Storage and archiving of disclosures
• Live update every time the regulation changes
KEY BENEFITS
• Straightforward set-up with no technical pre-requisites on end-user workstations
• End-users are immediately up-and-running without any need for training
• Centralized and permanently accessible regulatory information
• Reliable data validated in real-time
• Full control of the regulatory filing-calendar
• Guaranteed regulatory maintenance
THE INVOKE ADDED-VALUE
-- A business, end-user working environment --
Using the Invoke XBRL web spreadsheet, end-users can directly input their regulatory data into the reporting tables imposed by National Supervisory Authorities, and also can consult the XBRL report of their choice in the template format used at the time of submission.
-- Guaranteed regulatory maintenance --
Each time the regulation changes, the application is automatically upgraded to take into account the latest regulatory templates provided by Invoke's dedicated regulatory monitoring team. These upgrades are invisible to the users who will be provided with an up-to-date working environment, without taking any action, and with no risk of data losses.
Tool Features
CRD IV Reporting
Data Aggregation/Publishing
Filing Preparation
Instance Document Creation
Instance Document Validation
Instance Document Viewing
XBRL Collaboration Tools
Company Description
Founded in 2001, Invoke is a premier provider of cutting-edge regulatory reporting solutions dedicated to the Banking and Insurance sectors. With offices in London, Paris and Luxembourg, Invoke is the trusted XBRL technology partner for major national supervisory bodies across Europe, as well as for multinational groups in the banking and insurance sectors, who fall under the scope of complex regulatory imperatives.
Aligning extensive XBRL and domain expertise with pragmatic business functionality, Invoke offers industry-endorsed regulatory reporting solutions that are robust, flexible and user-oriented.