Investor and data user requirements for entity-specific disclosures
[TOC]
Introduction
As the following diagram illustrates for an open reporting environment, many parties utilize digital financial reports; from the investors that trade on the information to other users setting policy, performing macro analysis, or enforcing the rules. Even though each user group tends to focus on one type of analysis (e.g., a retail investor may focus on macro analysis), all these users have diverse and overlapping requirements from macro to technical to fundamental analysis. And while not always the case, these users frequently get their data from data aggregators that have their own special requirements commonly focused on the efficient and accurate automated consumption of the available data.
Digital Financial Reporting User Requirement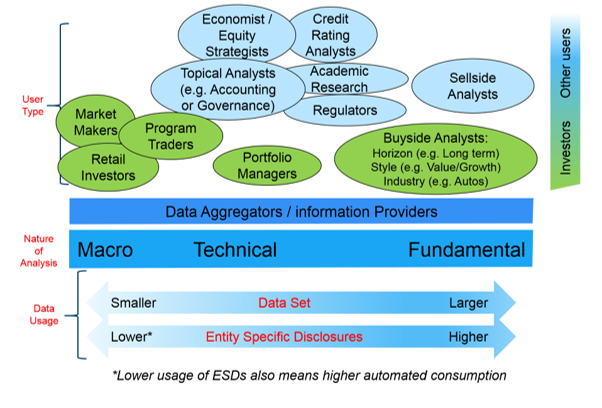 ---
The full article is exclusively accessible to members of XBRL International.
Already a member?
Please log in using your XBRL username and password.
If you or your organisation is a member but you do not have an XBRL username and password, please register for an account.
Not yet a Member?
Join XBRL today in order to get access to exclusive content, and other membership benefits:
Discounted conference attendance
Access to our Global Community
Use of the XBRL logo to promote your products and services
Early visibility and ability to influence new standards through Working Group participation
Inclusion in our Tools and Services directory
Learn more about joining the consortium.
---