Guidance refers to best practices, explanatory guides, case studies and white papers to aid implementation of the XBRL Standard in a reporting programme/framework. Guidance generally is targeted at XBRL data collectors, taxonomy architects, authors and XBRL report preparers, unlike the technical specification which is mainly for the software developers. Each guidance goes through a maturity cycle as shown in Figure 1.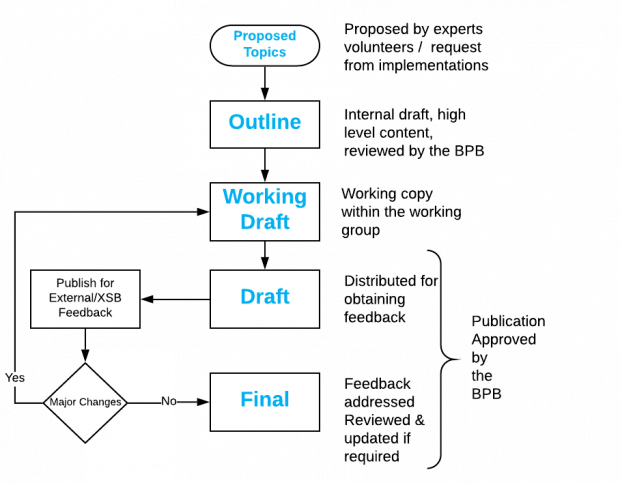 Guidance topics are requested by implementers, proposed by volunteers or gathered from member feedback. The working group or task force shortlists a topic from the proposed list and develops an outline. The outline provides high-level content and summarizes the best practice recommendations which enables an initial stage of feedback from the BPB.
The working group or task force will integrate the BPB feedback and expand the outline to produce "Draft Guidance". Once approved by the BPB, draft guidance is published for feedback. Unlike technical specifications, not all guidance works are available in the public domain, most of the guidance documents are accessible only to members.
The guidance is published as "Final Guidance" after addressing external feedback and XSB comments (for technical content). If there are any major changes identified during the feedback process the guidance goes back to the working draft stage to assess and if necessary correct the issues identified. The guidance is periodically reviewed for relevance and updated if required.
You can access all published guidance on the guidance section of the website. The official process of best practices/guidance development is documented in 'Practice Working Group and Work Product Processes'.