Analytics for fun and fraud detection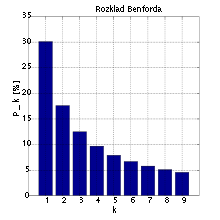 There's an interesting experiment over on the CoreFiling blog this week. Benford's Law, or the law of First Digits, is an observation about the frequency distribution of the leading digit in numbers appearing in a range of data sets. These are not evenly distributed, but tend to start with small digits. The digit "1" will appear around 30% of the time. The digit "9" just 5%.
It turns out to be a very useful tool. It is used extensively by auditors as one way to identify situations in which financial information might have been manually manipulated. The team over at CoreFiling are using it to analyse financial statements. Read the blog entry and play around yourself.