Building the future of business reporting: highlights from Data Amplified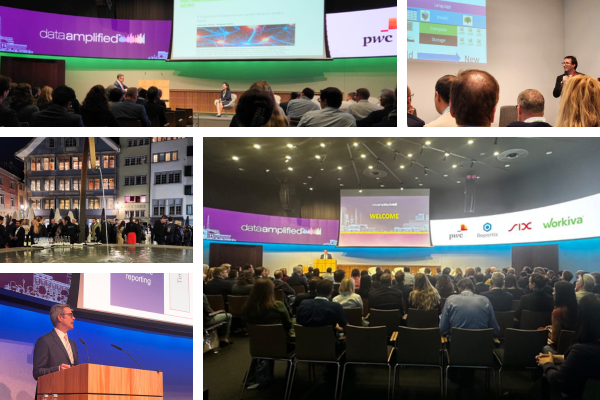 This week Data Amplified 2023 brought together professionals from across the world and across the digital reporting supply chain at the amazing SIX ConventionPoint in Zurich.
A key underlying theme was the need for a widening set of structured data to support rapidly developing demand from a host of analytic applications driven by artificial intelligence. That will include sustainability data, as well as a growing range of other business information, increasingly supplied and consumed at decision pace, and by a wide range of users.
We heard from IASB Board Member Florian Esterer about the IFRS Foundation's vision for global access to high-quality data, in the form of "decision-useful, high-quality and globally comparable and accessible digital financial reports." A vision that everyone can sign up to! Every part of the reporting supply chain has a role to play to ensure that data is timely, digitally comparable, accurate, available, usable and complete. That means standards setters working on comparability, regulators working on enforcement and training, vendors working on quality and issuers working on embedding accountability into their digital disclosures. It's time for all of us to play our part.
The rapid emergence of sustainability reporting requirements through sister standards-setters generated a key set of discussions, not least the unique opportunity that these changes create for a 'digital first' or 'simultaneously digital' approach to reporting on a global basis. The need to "think digital" throughout the development of sustainability standards, and how to incorporate such digital thinking, was set out by EFRAG Sustainability Reporting Board Chair Patrick de Cambourg. Both Patrick and ISSB Board Member Michael Jantzi underlined their focus on comparability and affirmed commitments to interoperability between taxonomies. The importance of globally comparable sustainability data for users was emphasised by Janine Hofer-Wittwer, CFA, Head of ESG Data and RegRisk Services, at SIX Group as well as a number of other speakers.
The conversation is only just beginning on AI, and it's one that our community is keen to engage on. The potentially unique support that high-quality, audited and relevant corporate reports can provide for trusted, or 'explainable' AI is a theme that we will no doubt be exploring for some time. Keynote speaker Maria Axente, an internationally renowned expert on AI ethics from PwC, urged all participants to recognise and get involved in the challenges presented by the application of advanced computational intelligence in our work.
With talks on a host of topics, there are so many ideas and innovations to discuss – digital signatures in XBRL, the proof-of-concept utilisation of the vLEI by the European Banking Authority, the storage and analysis of very large XBRL data sets, the use of structured data for municipal reporting, rethinking the role of HTML in Inline XBRL disclosures, technical approaches to the use of narrative text in sustainability disclosures… and much more. We'd love to hear your own Data Amplified (#DA2023) takeaways, and we'll be bringing you in-depth analysis in the coming weeks.