Data Amplified 2019: Governance of Reporting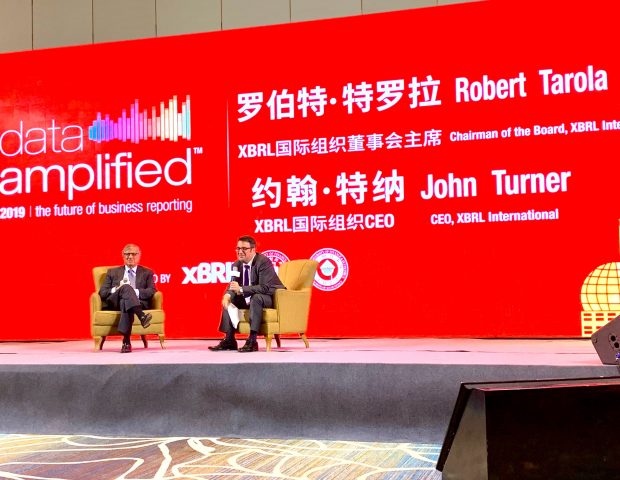 John Turner, XBRL International CEO and Robert Tarola, Chair of the XBRL International Board of Directors, kicked off Wednesday morning at Data Amplified with an interesting discussion on the changing requirements for financial reporting governance in a digital reporting ecosystem.
Tarola, who has an extensive background in audit, CFO, and board of director roles, demonstrated how the shift from paper to data-based financial reporting, while offering a host of benefits, has left some gaps in governance.
Auditors are responsible – and liable – for ensuring the information in financial statements is reported in a generally accepted way that is consistent with GAAP. However, the mandating of Inline XBRL reporting by the Securities and Exchange Commission (SEC) in the US has left a gap in the audit process.
Inline XBRL makes the machine-readable data inseparable from the human-readable report. While auditor's and CFO's are reviewing the numbers, there's a real gap in governance when it comes to the machine-readable side that investors receive if the review is done on paper or PDF. Although a company can be confident on an internal basis that their own tagging is correct, that does not mean their tagging choices are generally accepted or consistent.
Essentially this means you are left with two classes of investors: those who rekey the financial information into their own systems, who are still protected under audit, and those (the majority) who rely on the digital information, who are not protected by audit.
There is also some concern over who is responsible for checking XBRL tags – with auditors potentially needing additional competency development in this industry. Digital reporting also offers auditors an opportunity, however. Tarola suggested that structured financial reports offer the opportunity to produce and validate information bit by bit, rather than solely on the basis of an entire report. This would have the benefit of integrating audit within the reporting process – an interesting change in audit's role.
When preparing a financial report, you need confidence that the information is accurate. This now extends to tagging. We need to take another look at the governance of this process to ensure the information investors are receiving is completely reliable.
Stay tuned for more on this soon.