Data Amplified 2019: Granular Data – The Next Frontier?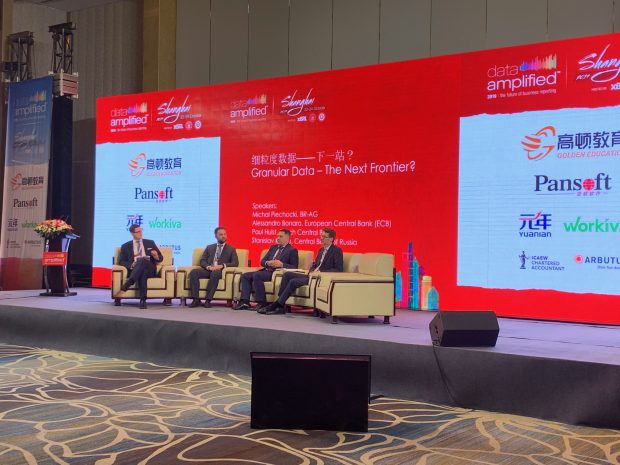 There is increasing interest in granular data from financial regulators around the world. This means moving thousands of facts around – for example, dealing with transaction data within enterprises. To make sure this data remains meaningful and efficient standards need to provide new ways to exchange information. At Data Amplified 2019 Michal Piechocki, Member of the XBRL International Board of Directors and CEO of Business Reporting – Advisory Group chaired an insightful panel discussion discussing this very interesting development in data.
Stanislav Korop, Central Bank of Russia, highlighted how the huge volumes being dealt with when collecting granular data require new ways to manage that data – namely, this month's publication of a candidate recommendation of the new xBRL-CSV specification. The new model will offer all the benefits of XBRL's structured data, with definitions, and multi-lingual data descriptions, but applied to a huge dataset.
Korop also cautioned that cybersecurity must be a focus when managing large volumes of the kind of very personal information that is intrinsic to transactional data. Personal information must be properly protected. Ensuring that the data is truly needed, properly formatted and transported and that there are end users is key to successfully using granular data.
Alessandro Bonara from the European Central Bank focused on how firms should use granular data, noting that using data on this scale requires an entirely new skillset. To make the most of granular data, firms need to invest in analysis, AI and machine learning. Bonara also noted that for granular data to be successfully used a formal, structed dialogue between regulators and banks is necessary to discover the right level of data to be reported. Combining new technologies with a good understanding of what regulators need should prevent regulators being overloaded with information.
Finally, Paul Hulst, Dutch Central Bank, picked out the importance of properly structuring granular data and applying standards as crucial to the future of business reporting. To have useful data, argued Hulst, you have to start with useful definitions. To have useful definitions, you need to look at the logical meaning of the data, starting from the data itself rather than attempting to shape data to preconceived catagories.
All interesting thoughts on this developing field! We will continue to watch what happens with granular reporting closely.