Key figure in XBRL India elected President of ICAI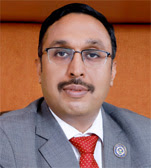 Congratulations to CA. Atul Kumar Gupta, Vice Chairman of the Board of XBRL India, who has been elected as President of The Institute of Chartered Accountants of India (ICAI).
CA. Gupta is widely appreciated for his key contribution to the new Goods and Service Tax regime in India. He has also chaired the SAFA Committee on Education, Training & CPD and the ICAI-Accounting Research Foundation (ARF).
We would like to extend our warm congratulations to CA. Gupta as he brings his deep insights around digital transformation – and digital disclosure with XBRL – to this new chapter of his influential career in accounting.
Read more here.