First reports available as Israel gets into the swing of Inline XBRL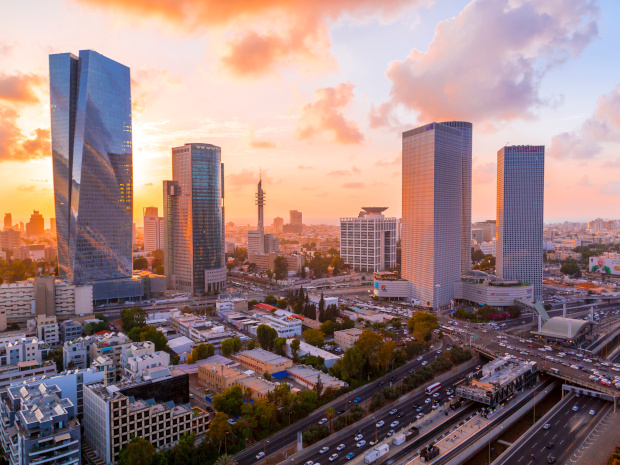 The first annual reports made by Israeli public companies in Inline XBRL (also known as iXBRL) are now available. The Israel Securities Authority (ISA) both collects and publishes filings via its Magna portal, where the first nine Inline XBRL reports are currently online at the time of publishing, with more expected soon.
Israeli enterprises are no strangers to digital reporting: ISA has been using XBRL for some years, and has enabled Inline XBRL submissions on a voluntary basis to encourage companies to begin the transition with their annual reports for 2021. As ISA seeks an eventual mandate for Inline XBRL, early adoption is an attractive option for companies seeking to get ahead of the curve and ensure smooth evolution of their reporting processes. For vendors, there is also an opportunity to provide software solutions.
The Inline XBRL format is fast becoming the international gold standard for high-quality digital regulatory reporting using the International Financial Reporting Standards (IFRS). It combines human- and machine-readability in a single document, directly and tightly linking the information the reader sees with the digital tags that enable timely and sophisticated data analysis. In implementing Inline XBRL, the ISA seeks to phase out 'dual filing' of parallel PDF and digital disclosures, facilitate investor access to data, and continue to ensure the visibility and attractiveness of Israeli markets.
To peruse individual Inline XBRL reports via Magna, simply click on a report as shown here: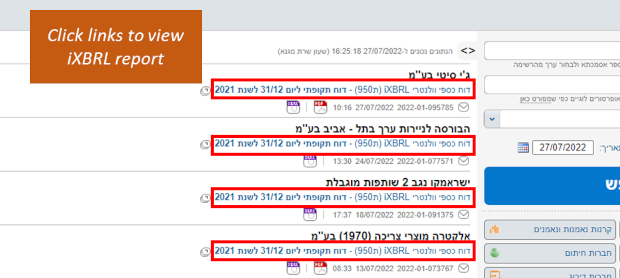 And click this icon to read in the Arelle online viewer: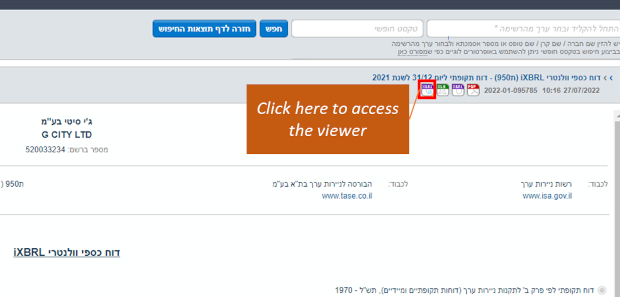 See the reports here (in Hebrew).