1 Introduction
Filing rules specify technical requirements of a filing system that must be satisfied by XBRL reports. This guidance explains the need for filing rules in an XBRL programme, provides a list of common classes of filing rules and identifies categories of filing rules that are not recommended. The guidance also provides recommendations on how to publish filing rules in a consistent manner.
This guidance is primarily targeted at XBRL report collectors.
2 Types of rules
One of the goals of an XBRL reporting programme is the collection of good quality data for analysis and further consumption. Automated validation rules can play a key role in ensuring the quality of XBRL reports.
Validation rules that are backed by requirements from the underlying business domain are referred to as business validation rules. Examples of business validation rules include:
ensuring that mandatory facts are reported;
checking that aggregated values are the sum of their children; and
ensuring that negative values are not reported for a concept that should only have positive values.
Separate guidance on implementing business rules in XBRL programmes discusses possible approaches to the implementation of such rules.
Validation rules that are driven by the technical requirements of a filing system are referred to as filing rules. Filing rules are additional technical constraints beyond those imposed by the XBRL specifications. Examples of filing rules include:
specifying which versions and modules of the XBRL specifications may be used in filings;
defining any applicable file size limits; and
restrictions on whether and how extension taxonomies should be constructed.
Data collectors may also publish non-automatable rules and tagging guidance to help preparers create XBRL reports. These may include choosing the right tags, explaining the extent to which tagging is required, specifying the precision to which facts need to be reported, guidance on extending elements, and other related issues. The application of such guidance cannot typically be automatically validated by XBRL processors, as it requires the judgement of preparers to apply correctly.
This document focuses on filing rules, the technical constraints imposed on an XBRL document within a filing programme. Figure 1 summarises the different types of rules and guidance which may be specified by a data collector.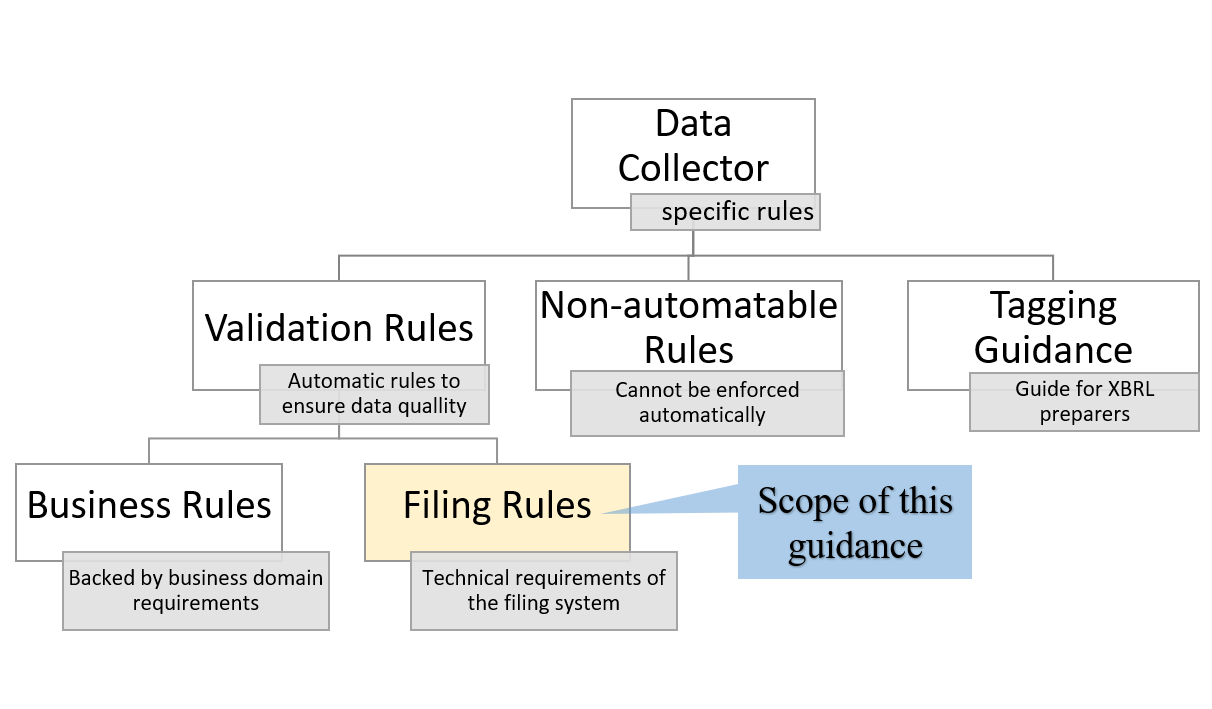 Wherever possible, filing programmes should refer to and re-use XBRL International best practice rules and guidance so that validation rules and filing guidance published by the data collector are restricted to issues that are specific to the programme. This improves consistency between filing programmes and thus minimises the effort needed by preparers and software developers in creating filings.
3 Why are filing rules needed?
Filing rules are needed to ensure that a submitted XBRL report complies with the technical requirements of the relevant filing system. For example, a filing system will typically only accept reports that have been prepared using a taxonomy approved by the collector, and so a filing rule is required to ensure that XBRL reports only use an approved taxonomy as their taxonomy entry point. Filing rules are typically validated by the collector at the point of submission, resulting in a rejection of a filing if it does not comply.
4 What issues can filing rules create?
Whilst filing rules are essential to ensure that XBRL reports meet the collector's requirements, unnecessary filing rules create a burden for software developers, and can create interoperability issues.
---
The full article is exclusively accessible to members of XBRL International.
Already a member?
Please log in using your XBRL username and password.
If you or your organisation is a member but you do not have an XBRL username and password, please register for an account.
Not yet a Member?
Join XBRL today in order to get access to exclusive content, and other membership benefits:
Discounted conference attendance
Access to our Global Community
Use of the XBRL logo to promote your products and services
Early visibility and ability to influence new standards through Working Group participation
Inclusion in our Tools and Services directory
Learn more about joining the consortium.
---